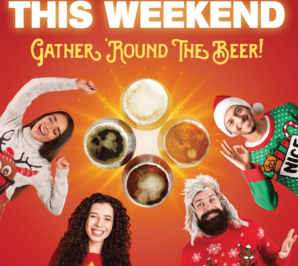 Already on Santa's naughty list? Might as well live it up and gather 'round the beer! 🎅🏻🍻 Join us for our annual Ugly Sweaters & Holiday Beers party – eat, drink and be merry while showing off your ugliest holiday sweaters Thursday, December 16–Sunday, December 19! 🎄
We'll have an amazing selection of limited-release holiday and seasonal beers along with raffles and goodies available every night for party-goers showing off their sweaters! There's no better way to get in the holiday spirit.
Stay tuned for official tap lists by location, released on Tuesday, December 14! These seasonal beers are available for a limited time only, so get them while you can.